Nothing is worse than being hit with an unexpected hunger pang while you're on the go. Those are the moments we often find ourselves speeding into fast food drive thrus or in line at the nearest coffee shop for a sugary or starchy quick fix, only to crash again and repeat the cycle soon after.
With a little bit of preparation, you can be ready to conquer sneaky hanger (hunger induced anger), cravings, and stick to your nutrition goals. Meet your new on-the-go snack staple: bite-sized, protein-packed, nut-free energy balls! (Say that three times fast!)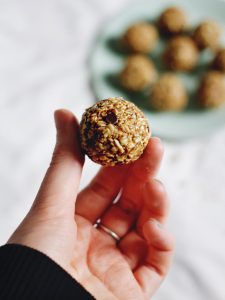 This simple no bake recipe takes only 5 minutes of prep time and 5 ingredients to whip up. Toss a few energy balls in small airtight container in your purse  or gym bag for a healthy pick-me-up whenever hunger strikes.
Let's get rolling! Read on for the recipe.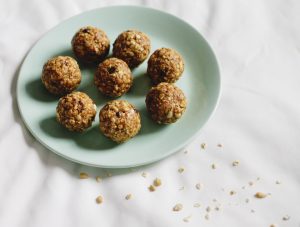 RECIPE
Makes approximately 12 bite-sized balls
Preparation: 
Ingredients
    1 cup quick oats

    ⅓ cup flax meal 

     ½ cup sunflower seed butter

    ¼ cup maple syrup 

    ⅛ cup raw or toasted sunflower seeds

    ⅛ cup chocolate chips (optional) 
Instructions
Place a medium-sized air tight container aside. 

Pour all ingredients to a mixing bowl.

Stir mixture until well combined.

Using your hands, roll the combined mixture into approximately 12 bite-sized balls, placing each ball in the airtight container as you go.

One complete, place in the fridge for approximately one hour to "set" the balls.

After one hour of setting, enjoy! Continue to store in an air-tight container in the fridge for up to five days.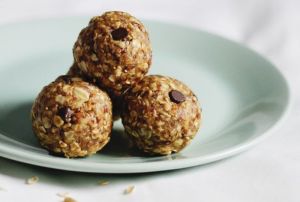 This recipe can be altered to satisfy all types of cravings or nutritional goals. For an extra chocolate kick, try rolling the finished bites in cocoa powder. If you're wanting more protein power, consider coating them in your favourite protein powder. For crunch, try tossing in hemp seeds or any other seed of your choice – the possibilities are endless!  
If you feel like we're on a roll with this recipe, why not try it out? Snap a picture and share it with the hashtag #WFCCRecipes to connect with the rest of the Women's Fitness community and for a chance to be featured on our social media channels.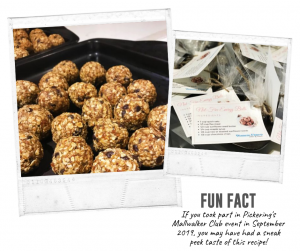 Special thanks to our WFCC Pickering manager, Jenny, who created this recipe!