At WFCC, we're all about kicking our healthy habits up a notch to help our members become their best selves. These healthy habits include not only working out, but also being mindful of the food we're putting into our bodies. After all, food is fuel!
Healthy eating should feel good. Think satisfied, not deprived! With this approach in mind, we've learned easy tweaks to make our favourite dishes to align with our fit, vibrant lifestyles. We want to share them with you!
Try this healthy, quick and easy to make taco recipe that makes the perfect post-workout meal. The coconut tortillas, nutrient-dense organic free range eggs, and citrusy guacamole will give you plenty of brain and body healthy fats and amino acids. The coconut tortillas make a great alternative to corn tortillas because they are low carb (perfect for anyone trying out the ultra-popular keto diet), grain-free (often thought to be easier on digestion), and rich in medium-chain triglycerides. Fibre-rich black beans and spinach will leave you feeling full and satisfied. For added flavour, we've included warming spices such as smoked paprika and chili powder.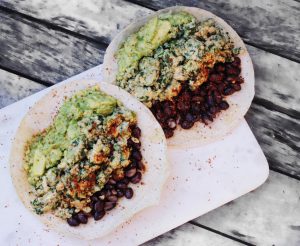 RECIPE
Makes 2 large tacos.
Total time: 20 minutes. 
INGREDIENTS
-2 – 6.5 inch coconut tortillas (can be purchased online and in specialty natural health food store. Alternatively use corn tortillas) 
-Avocado oil/spray (or coconut oil/spray)
-Fresh herbs of your choice (optional) 
Citrusy "Guacamole"
-1.5 tablespoons lemon juice
-½ medium sized hass avocado, cubed (Check out this quick how to video!)
-¼ teaspoon ground pink salt
-¼ teaspoon ground black pepper
Spinach Scrambled Eggs
-3 large brown organic, free range eggs
-¼ cup of coconut milk (or milk of choice)
-½ cup chopped spinach
-½ teaspoon red chili pepper flakes
-1 tablespoon of avocado oil/spray
Smoky Black Beans
-½ cup canned black beans, rinsed & drained 
-¼ cup chopped white onions 
-½ teaspoon smoked paprika
DIRECTIONS
In a small bowl, add lemon juice, pink salt, black pepper, add diced avocado chunks and mash together with a fork until mixed well. Set aside.

In another small bowl, whisk or beat eggs with coconut milk, salt, pepper, chili pepper flakes and spinach.

In a cast iron or nonstick skillet, heat avocado oil over medium high heat. Add onion and smoked paprika and saute until onion becomes translucent. Add black beans. Cook until black beans become slightly soft in consistency. Remove and set aside in a bowl.

In the same cast iron or nonstick skillet, add tablespoon of avocado oil over medium high heat. After a minute, add egg mixture to skillet. As eggs set, use a spatula to pull across the skillet to "scramble". Continue until no visible wet mixture remains.

Once the spinach scrambled eggs are complete, plate on open tortillas with guacamole and smoky black beans. Top with fresh herbs of your choice. If you like it a bit spicy, add a sprinkle of red chilli pepper flakes to taste. 
This recipe is something to TACO-bout. We'd love to see you try it out! Share a photo or video with the hashtag #WFCCRecipes to connect with the rest of the Womens Fitness community and for a chance to be featured on our social media channels.