There is nothing worse than being caught with an unexpected intense craving or hunger pang while you're on the go. The solution? Get a step ahead of your cravings with these #StayOnTrackSnack ideas! Every recipe we've included here can be prepared within 5 minutes, contains minimal ingredients, and can easily be consumed on the go.
The next time a craving hits, you'll be able to reach into your bag, healthily fuel your body with one of these snacks, and take another step closer to your goals. You go, girl!
CREAMY SALTED CACAO COLLAGEN SMOOTHIE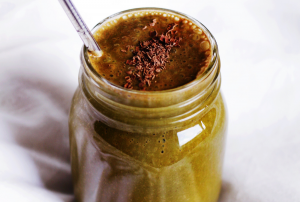 This smoothie will satisfy your chocolate cravings and have you glowing from the inside out. It's packed with superfood ingredients such as cacao, as well as nutrient-dense leafy greens, cauliflower, and banana.  The natural sweetness of the banana masks any hint of the sneaky leafy greens and cauliflower. Combined with collagen powder to add creaminess (and a source of protein!), you'll find this smoothie's texture reminiscent to that of a thick milkshake—without the major spike in blood sugar levels. A pinch of pink Himalayan salt pairs perfectly with the rich flavours of the cacao and the creaminess from the collagen powder. Pour it in an insulated reusable bottle, stash in your bag or purse and sip whenever you need to re-fuel!
Find the cacao collagen smoothie recipe here.
STOVETOP POPCORN WITH COCONUT OIL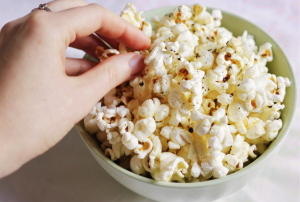 Stovetop popcorn is a game changer and so versatile when it comes to satisfying savoury or sweet cravings alike. Craving savoury? Grind some chunky salt and pepper on top. Is sweet and crunchy more of your vibe? Melt your favourite dark chocolate for a decadent drizzle. Want to spice things up? Try a sprinkle paprika, a dash of cayenne or cumin. The possibilities are plenty —get creative! (Did we mention we've even seen a vegan Doritos® take on this?!) We also love the quickness of this recipe —in under 5 minutes, you can have a week's worth of grab-and-go snacking prepared.
Ready to get poppin'? Find the popcorn recipe here.
NO BAKE ENERGY BALLS (NUT-FREE)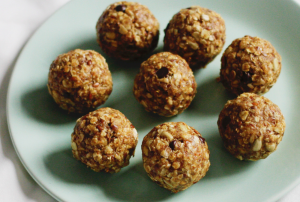 These simple, no bake energy balls can be altered to satisfy all types of cravings or nutritional goals. For an extra chocolate kick, try rolling the finished bites in cocoa powder. If you're wanting more protein power, consider coating them in your favourite protein powder. For crunch, try tossing in hemp seeds or any other seed of your choice – the possibilities are endless! Bonus: it takes only 5 minutes of prep time and 5 ingredients to whip up. Toss a few energy balls in small airtight container in your purse  or gym bag for a healthy pick-me-up whenever hunger strikes.
Get rolling with the energy ball recipe, here. 
What's your go-to on the go healthy snack recipe? Share a photo or video with the hashtag #WFCCRecipes or #StayOnTrackSnack to connect with the rest of the Womens Fitness community and for a chance to be featured on our social media channels.