There are two options when it comes to dealing with chocolate cravings: pass on them (and probably think about chocolate for the rest of the day), or enjoy them. The latter option doesn't have to be associated with falling off track toward your health and fitness goals. We've whipped up a tasty smoothie recipe that literally blends the creamy, rich decadence of chocolate with extra-nourishing ingredients such as leafy greens, collagen, and more so you can snack and stay on track.
Here are 3 more reasons we're reaching for this delicious smoothie:
Ready to enjoy within 5 minutes, and with minimal cleaning.
It makes an excellent on-the-go snack option. Pour in an insulated reusable bottle, stash in your bag or purse and sip whenever you need to re-fuel!
Healthy eating should feel good. With its thick, creamy texture reminiscent of a milkshake, you can healthily satisfy cravings (you get that chocolate fix, girl!) and fuel your body without a crazy sugar crash.
Read on for the recipe!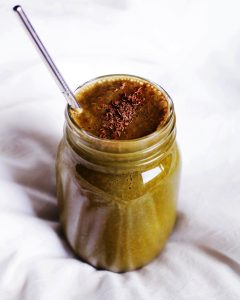 RECIPE
Makes 2 servings
Total time: 5 minutes.
INGREDIENTS
-1/4 cup of cacao powder
-1 cup of frozen spinach
-1 cup of frozen cauliflower
-1 ripe banana, peeled
-1/4 cup of collagen powder
-2 cups of milk or milk alternative of your choice (we love the creaminess of organic oat milk or coconut milk!)
-A pinch of pink Himalayan salt and cinnamon
Optional: freshly dark chocolate for topping
DIRECTIONS
1. Add ingredients to high-speed blender.
2. Blend on high setting until smooth and fully combined.
3. Pour into a drinking vessel of your choice. For extra decadence, grate a piece of your favourite dark chocolate on top. Enjoy!
Enjoyed this recipe? Tell us what you thought! Share a photo or video with the hashtag #WFCCRecipes or #StayOnTrackSnack to connect with the rest of the Womens Fitness community and for a chance to be featured on our social media channels.