We usually associate popcorn as a classic pairing with movie watching. But it also makes a great healthy, quick, and affordable snack that, with a little bit of creativity, can satisfy savoury and sweet cravings alike!
Here are 3 reasons we're reaching for this stovetop popcorn as a #StayOnTrackSnack:
It is full of fibre and whole grains, and low in calories
Multiple servings can be prepared in just 5 minutes, for under $5
It's easy to take with you on the go, and it keeps well in an air-tight container or bag
Healthy eating should feel good. With its enjoyable crunch and endless possibilities for toppings, you can healthily satiate cravings with popcorn. Feel satisfied, not deprived!
Ready to get popping? Read on for the recipe!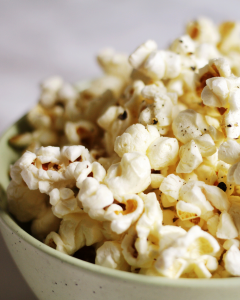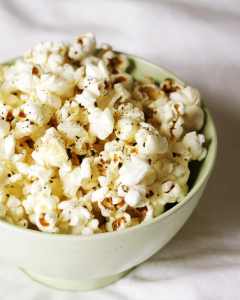 RECIPE
Makes 8 servings. 
Total time: 5 minutes.
INGREDIENTS
-2/3 cup of popping corn
-1/4 cup of coconut oil
Topping suggestions: for a simple savoury take try a drizzle of olive oil, pink Himalayan salt, pepper. For a nacho-like flavour, add nutritional yeast (which also happens to be a great source of vitamin B12!). Sprinkle with or grate your favourite cheese on top. To help with sweet cravings, try melting your favourite dark chocolate and drizzling on top. Get creative and have fun!
DIRECTIONS
1. Add coconut oil and 3 kernels of popcorn to a large pot with a lid. Cover the pot with the lid and heat over medium-high until all 3 kernels pop (you'll hear it!).
2. Once the kernels pop, turn off the heat. Using a spoon, carefully scoop the 3 kernels out of the pot and place in a bowl aside.
3. Add the rest of the popping corn to the pot and cover with the lid. Turn element back on to medium-high heat.
4. You should hear the popcorn popping within 30 seconds of adding to the pot. Every once in a while, give the pot a shake to get every last kernel!
5. Around the 2-minute mark, when the popping becomes slow, turn off the heat and remove the pot from heat. Wait one minute.
6. After one minute has passed, remove the lid. Let the popcorn sit in the still-hot pot for 1 minute. This will help make the popcorn crispier.
7. After that, remove the popcorn from the pot, add to a bowl, and add toppings of your choice. After tossing, your popcorn should be ready to enjoy! Since this recipe makes 8 servings, we suggest adding a few individual servings to airtight containers for tasty, healthy, on-the-go snacks.
If you try out this recipe, be sure to pop in to social media and tell us which popcorn topping you went for! Share a photo or video with the hashtag #WFCCRecipes or #StayOnTrackSnack to connect with the rest of the Womens Fitness community and for a chance to be featured on our social media channels.