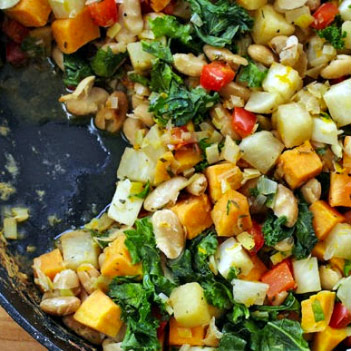 INGREDIENTS:
1 leek (white part only), finely chopped
1 red bell pepper, seeded and diced
3 cloves garlic, peeled and minced
2 teaspoons minced rosemary
1 large turnip, peeled and diced
1 medium sweet potato, peeled and diced
Zest and juice of 1 orange
2 cups cooked white beans, or one 15-ounce can white beans, drained and rinsed
1 cup chopped kale
Salt and freshly ground pepper to taste
DIRECTIONS:
Place the leek and red pepper in a large saucepan and sauté over medium heat for 8 minutes. Add water 1 to 2 tablespoons at a time to keep the vegetables from sticking to the pan. Add the garlic and rosemary and cook for another minute. Add the turnip, sweet potato, orange juice and zest, and the beans and cook for 10 minutes, or until the vegetables are tender. Add the kale, season with salt and pepper, and cook until the kale is tender, about 5 minutes.
PREP-TIME: 15-20 MINUTES
COOK TIME: 30 MINUTES
SERVES: 4