This is a stunner of a weeknight meal!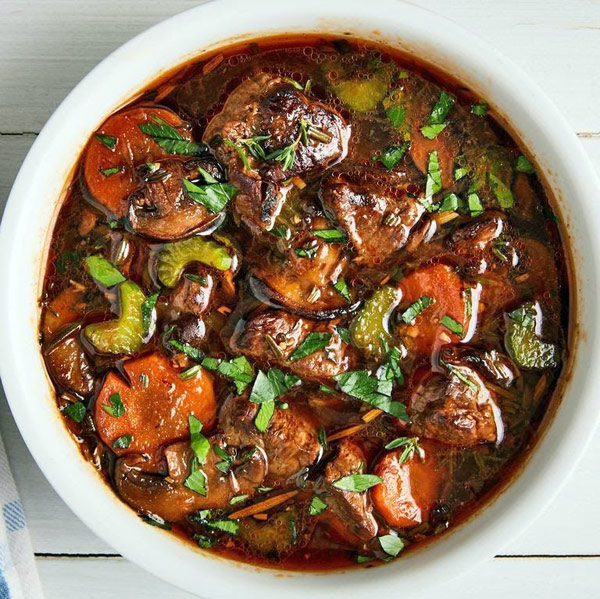 INGREDIENTS:
2 lb. beef chuck roast, cut into 1″ pieces
Kosher salt
Freshly ground black pepper
2 tbsp. extra-virgin olive oil
8 oz. Baby bella mushrooms, sliced
1 small onion, chopped
1 medium carrot, peeled and cut into rounds
2 stalks celery, sliced
3 cloves garlic, minced
1 tbsp. tomato paste
6 c. low-sodium beef broth
1 tsp. fresh thyme leaves
1 tsp. freshly chopped rosemary
DIRECTIONS:
Pat beef dry with paper towels and season well with salt and pepper. In a large pot over medium heat, heat oil. Working in batches, add beef and sear on all sides until golden, about 3 minutes per side. Remove from the pot and repeat with remaining beef, adding more oil as necessary.
To the same pot, add mushrooms and cook until golden and crispy, 5 minutes. Add onion, carrots, and celery and cook until soft, 5 minutes. Add garlic and cook until fragrant, 1 minute more. Add tomato paste and stir to coat vegetables. Add broth, thyme, rosemary, and beef to the pot and season with salt and pepper. Bring to a boil and reduce heat to a simmer. Simmer until beef is tender, 50 minutes to an hour.
YIELDS: 4 – 6 SERVINGS
PREP TIME: 0 HOURS 15 MINS
TOTAL TIME: 1 HOUR 45 MINS