WELCOME! TODAY IS A NEW BEGINNING
Your guide to Getting Started, Group Exercise, Personal Training, Nutrition & Weight Loss, Incentive Programs & Much More!
THANK YOU for choosing Womens Fitness Clubs of Canada as your health club. Our team of dedicated fitness professionals are eager to help you reach your health and lifestyle goals and make exercise an important part of your daily life.
This New Member Package is a valuable tool to navigate the many services we offer and take full advantage of your membership. It was designed to inform you of the different programming opportunities we offer and the recommended starting point to build a safe and effective exercise program.
Please take the time to read each section and familiarize yourself with this guide. Our friendly tips will teach you valuable information, from advance registration for your favourite fitness class to how to schedule your Complimentary Fitness Orientation.
We've made sharing the benefits of club life easy by enclosing two FREE 5-day passes at the back of this package. Hand them out with pride to someone you care about who can share in the many benefits of an active lifestyle.
Thank you once again for choosing Womens Fitness Clubs of Canada. If there is anything we can do to make your experience more enjoyable, please let us know through the Comment Box at the club or in person upon your next visit.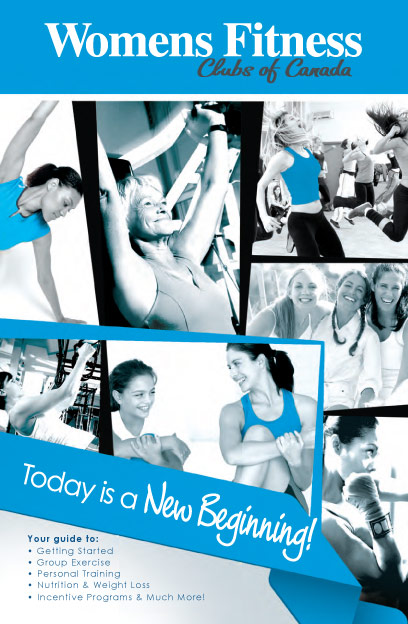 Getting Started - Fitness Equipment
Most WFCC memberships include a complimentary Personal Training session and fitness consultation. This is the ideal starting point for your fitness journey, and has proven to be the most effective for our members. During the consultation appointment, we review your health questionnaire, your past fitness experiences and your personal goals. From there, we'll work with you to determine the best way to achieve your goals. The next step is to meet with your Personal Trainer, who will help you put your program into place. Both appointments can be scheduled online or at the club.
How Do I Reach My Goals?
Most health and fitness goals can be reached by using either our state-of-the-art fitness equipment, fitness classes or a combination of both. Below you will find more information about all of our activities.
FITNESS EQUIPMENT
Fitness equipment refers both to Resistance Equipment (selectorized/free weights), or Cardiovascular Equipment. Combined, they are an effective way to create a balanced training regimen that achieves both Anaerobic (strength) and Aerobic (endurance) conditioning.
Resistance Equipment - This is the best way to improve your strength and to keep your muscles and body fit for daily activities. Building strength will speed up your metabolism and give you the added benefit of burning calories even when you sleep. It is also regarded as the most effective way of modifying your existing shape. Resistance training is also an important way to delay the loss of bone density that leads to osteoporosis. To maximize your results and development, you can work with one of our expert Personal Trainers. Resistance training maintains strength, balance, and coordination which are all important for optimizing your health. Reduce your risk of injury, back pain and arthritis by following a prescribed strengthening program.
Cardiovascular Equipment - This is a great way to burn away calories while improving endurance. You can measure your progress specifically, whether by distance travelled or by calories burned. We've equipped all of our facilities with a wide range of fun, state-of-the-art cardio equipment to keep you motivated! Performing regular cardiovascular exercise has many health benefits. Regulate blood pressure and blood sugar levels, decrease bad cholesterol, and reduce your risk of heart disease by following a prescribed cardiovascular routine.
Which is the best Cardio Machine for me?
Short answer: The one you like best! Each machine will achieve the same cardiovascular benefit, provided the intensity is the same. For instance, if you burn 200 calories in 20 minutes on a bike, elliptical or treadmill you are training within a similar intensity range. By choosing your favourite machine you are more likely to push yourself by either staying on longer or working harder – which will get you the best results. Remember that you can plug in your headset on one of our personal viewing screens to watch your favourite show while you work out. Time will fly and you'll get fit quicker.
Kick up your exercise workout and join a class! You can achieve all your health and fitness goals within our Group Exercise program and have fun all at the same time! We've made class selection easy by separating the classes into categories based on their activity which is explained on our class description handout (available at the club or online).
Whether your are 'Queen of Cardio' or down with 'Downward Dog' you will enjoy our Dance and cardio type classes which are ideal for women interested in burning calories while improving endurance. Cycling is another cardiovascular activity that takes you on an amazing ride surrounded by incredible music and an inspirational Instructor. Similar to cardiovascular training on equipment, dance and cardio classes help regulate blood pressure and blood sugar levels, decrease bad cholesterol, and reduce your risk of heart disease. Core Stability & Strength classes are ideal for women interested in improving their strength and keeping their muscles and bodies fit for daily activity. Reduce your risk of injury, back pain and arthritis by taking core stability & strength classes. The Mind & Body classes use mindful movements and focus on the much needed but often neglected balance, posture and flexibility. Short on time? Our 50/50 combo class serves up a well-rounded workout in an hour!
Current class schedules are available at the club or online. You can even book some of your classes online by clicking here.
What Class should I Start With?
A balanced workout combines both cardio and strength classes for optimal results. We suggest you sample a variety of classes and follow your passion. For instance, if you love muscle mix classes, then create your program around that activity. The more fun you have, the more likely you are to stick with your program! 6
How To Register for a Class Online
At certain times of the year, the popularity of our group classes increases. We encourage our Members to take advantage of our Advanced Registration System. Just follow the steps below:
Create an account - Click "login" from the top menu. If you have an account, enter your email address and password. If you do not have an account, click "Create an account." Enter your e-mail address and membership number. If you do not have a membership number, click "Not a Member."
Retrieve Your Password - Your password will be emailed to the account you indicated on signup.
Login - Click "Login" from the main menu at womensfitnessclubs.com. Enter your email address and the password that was emailed to you.
Your Welcome Page - This page lists all upcoming classes, and allows you to change your password and reserve child care. Click "add a class" or "class schedule" from the main menu.
Register - Select the class you'd like to register for. Click the "register" button. You'll be asked to confirm you want to register. You can reserve only one spot in a class, in one class per day. Class registration is available for classes occurring in the next two days only. Online Registration closes prior to 6am the day of the class. If there is no "reserve" button, you can simply drop in for this class.
Print your class ticket - Your registration will be confirmed. A copy of this will go to your email account. You can also print a copy of your class ticket.
Take your class! Check in at the club. Trade your class ticket for a wristband, and get ready for the class!
Whether you are new to exercise, an avid exerciser, or simply want to learn how to make the most of your time, Personal Training is a valuable tool for you. Working one on one with a certified Trainer ensures that you get the motivation and coaching you need to achieve your goals in the most efficient way!
Working with a Personal Trainer can help you achieve results three times faster than working out alone. Better, more permanent results are the reason why Personal Training has become the ideal solution to reach health and fitness goals.
You are most likely eligible for a complimentary fitness consultation with your membership, which is the optimal starting point to learn about your current fitness level and explore your training options. You can schedule a consultation online by visiting our website here or schedule it at the Reception Desk upon your next visit.
"Eat clean. Train dirty."
We all know that eating properly is vital to maintaining a healthy lifestyle and achieving your goals. We've assembled a certified team of professionals to guide you and help you make wise decisions so that you can achieve a balanced and healthy diet. As you exercise, your body is burning extra fat – but that energy needs to be replaced with the appropriate nutrition that will replenish and rejuvenate your body. Learn what you should eat, how often and when by consulting one of our Certified Nutritionists. An appointment can be scheduled online here or at the Reception Desk.
In our childcare centre, you can be confident that your child will be cared for lovingly during their stay with us. We provide viewing screens in the workout area so you can monitor your child while you work out. Our childcare experts will stimulate your child's imagination through a variety of arts and crafts and developmental toys to help make the experience a pleasant and enjoyable one for all.
For the safety of all of our clients' children, we ensure very strict child-to-attendant ratios, so please reserve your child's place in advance. We accept children from 6 weeks to 6 years of age. Advance reservations can be made 48 hours prior to your stay for a maximum of 2 hours. This can be done online by visiting us at womensfitnessclubs.com or at the Reception Desk. Just ask reception for the current cost per session. Discounts are available for multiple sessions purchased.
"Motivation is what gets you started, habit is what keeps you going."
Star Program & Cardio Bingo - These two wonderful programs will help you stay on track and visit the gym on a regular basis. In addition to the many health benefits associated with regular activity, we actually reward you with FREE gifts! You can learn more about these programs by speaking to one of our Membership Representatives.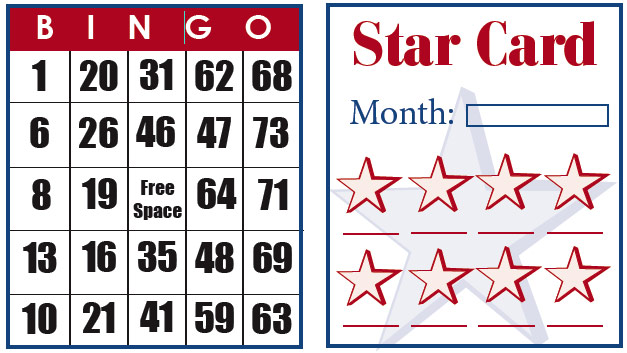 Inactivity, Holds & Cancellations
We pride ourselves on offering flexible options for membership interruptions
Medical Holds
With a medical note and for a minimum of one month, your membership may be placed on hold at a reduced cost. We offer a no charge pregnancy hold. Please see Membership for current rates. We must be notified in writing within 30 days of the desired start date to begin this service.
Inactivity / Part Time Membership Plan
At different intervals throughout the year, you may wish to reduce the frequency of your visits to our facility. With our Inactivity/Part Time Membership Plan, you can frequent the gym 4 or 6 times per month at a reduced cost. Please see Membership for current rates. We do require a minimum stay on inactivity of two months. We must be notified in writing within 30 days of desired start date to begin this service.
Membership Transfers
Within your initial term, we do not process cancellations until your complete obligation has been fulfilled. However, you may find someone who is not currently a member or has not been a member in the past 6 months who wants to take over the balance of your membership. This service is provided at a cost of $25 plus HST.
Membership Cancellations
Once your initial term is completed and your financial obligation has been met, your membership may be cancelled. All that is required is to provide written notice within the agreed-upon time frame. We do encourage you to obtain a cancellation validation form as proof of cancellation. This assures both parties that the cancellation has been received and properly cancelled. We do not recommend cancellations by email. To learn more about the above services, simply speak to a Membership Representative at your facility.
Frequently Asked Questions
"Every day is a chance to get better!"
What Should I Bring?
Comfortable workout attire and shoes
For hygienic reasons we ask that members bring their own yoga mat when attending a yoga classes
A lock to secure your valuables. If you are at one of our locations that have programmable locks, then a lock is not necessary
A water bottle
A towel to wipe down the equipment after use and a larger towel for a shower afterwards
We supply soap, shampoo, and body wash
Can I bring a guest?
If the guest is over 18 years of age and does not require parental consent, they may use our facility at a cost of $15 plus HST per visit. If the guest is under 18, they must be accompanied by a legal guardian to be permitted entry. If the member joins within a 30 day window, the guest fee will be credited towards their membership fees. On certain occasions, we do provide our members with day passes so that their friends can try out our facility; you will find two 5-day guest passes in this very brochure! See Membership for more details.
What's the best way to learn about upcoming events & services?
Sign up for our e-updates where we stay connected with our Members in real time through regular email updates. You can also follow us on Twitter or like us on Facebook here. Stay connected to Womens Fitness!
Do You Offer Corporate Discounts?
YES WE DO! Time to mix business with pleasure!
1 FREE YEAR OF MEMBERSHIP...
..is yours for the taking! Simply introduce Womens Fitness Clubs of Canada to your workplace. If we launch a new Corporate Program for your company, you will not only be the office hero (for saving your coworkers money and starting them on a healthier path), you will also benefit directly with some well deserved free membership time. Share the benefits of exercise with your workplace and remind your colleagues to play as hard as they work! See the Membership Team for more information.
"Believe you can and you are halfway there!"
The following policies and procedures are designed to ensure the quality of our services to you. We would appreciate you taking the time to read and understand them. If you have further questions, we will be happy to discuss them with you at your convenience.
Member Check-In
All members and guests must check in at reception. Members are required to provide their membership number for verification. Once verified, you are welcomed into our facility.
Guest Policy
We welcome the opportunity to share the benefits of Club life with an invited guest. In order for us to properly assist the guest we do require advance notice prior to bringing in the guest. We do also require a $15 guest fee that is deducted from their membership if the guest becomes a member in the near future.
Revoke Membership
The Club reserves the right to cancel the membership of any member who does not comply with the Club Rules or respect the rights and property of fellow members and the Club.
Proper Conduct
Proper decorum must be maintained in the Club at all times. All members must show consideration for one another in keeping locker rooms clean and clear. Washrooms, showers, sauna, etc., shall be used with due regard for other members.
Under no circumstances are towels, locker room supplies or other Club property to be taken from the building.
Members must not adjust any mechanical or electrical controls. Deficiency in operation is to be reported to the Front Desk or Manager.
The Club is designed strictly for adult women. The Laws of Ontario and local health regulations do not allow children under 15 years of age or pets in the fitness area.
It is illegal to bring prohibited drugs or alcoholic beverages on the premises.
Smoking is not permitted ANYWHERE in the Club.
All disputes or complaints must be directed to the Manager.
No glass containers are allowed on Club premises.
All rules and signage must be adhered to.
Members must begin their workout no later than 45 minutes before closing time.
Members may only use services for which they are registered.
The Club reserves the right at anytime to add or amend these rules at its sole discretion.
Cardio Equipment
To allow all members access to the cardiovascular equipment, sign up sheets are located at each machine to reserve the equipment. Some facilities may not require sign up but may introduce this procedure at a later date.
Reservation Procedures
(Not observed at all facilities)
You may reserve one piece of equipment each workout session.
You may only reserve two hours in advance.
The cardiovascular equipment can be reserved in 10 minute increments with a total reservation limit of 30 minutes. For example, if you wish to reserve your treadmill for 30 minutes, simply write your name on the cardio sign up sheet for 3 spots.
Reservations are to be made by the intended user only, therefore please do not reserve for other users.
Please respect your scheduled time by beginning your session promptly and completing it within the allocated time.
Resistance Training
Please allow others access to the resistance equipment by getting up after each set.
Kindly remove all weights and put them in their designated areas after completing your exercise.
As a courtesy to your fellow members, upon completing your workout please wipe any perspiration off the machine.
Cellular Phones
With the improved technology of cellular phones and the ability to photograph, the use of cellular phones is not permitted beyond the reception area.
Holiday Hours
For major Holidays the Club is open from 8:00am to 6:00pm. This is subject to change so please verify the current holiday hours at your facility. Signs are posted indicating class schedules as well as accessing them on our website at: www.womensfitnessclubs.com