wfcc trainer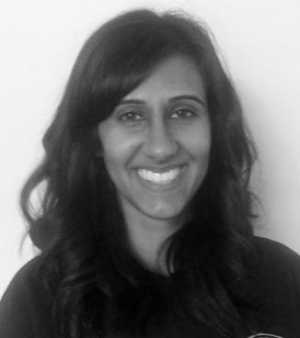 Amreen Thawer
Certified Personal Trainer
Areas of Practice
Being a Certified Personal Trainer and having a Kinesiology background allows me to work with a wide variety of clients ranging from athletes to clients that are completely new to exercise. Having that flexibility is great when it comes to interacting and working one on one.
Experience
I have a Kinesiology degree that has played a crucial role in my training programs. It has given me the solid grasp in areas of anatomy, nutrition, as well as the psychological aspect of health and fitness. I also have played many sports ranging from volleyball, basketball, and dance and so forth to soccer being my main sport. As part of my interest in the sport of dance, I became a Zumba Basic and Zumba Step instructor.
Philosophy
Two quotes that I like to live by when it comes to exercising and overall living a healthy living a healthy lifestyle are: "If you think you can, you can and if you think you can't, you can't." Mary Kay Ash "Energy and perseverance conquers all things." Benjamin Franklin When it comes to training and exercise, I believe that 50% of the work is physical while the other 50% is mental. My goal as a trainer is to make sure that both are in unison to help master your goals.
Certifications & Achievements
Certified Personal Trainer, Can Fit Pro/ Zumba Basic and Zumba Step instructor/ First Aid, CPR and AED Level C certified/ Kinesiology and Health Science Graduate,York University/ Navina Thai Yoga Stretching for Exercise Professionals, Can Fit Pro/ Fixing the Curse of Low Back Pain, Can Fit Pro
What Our Members Say
Amreen is highly educated as a personal trainer. She knows the needs that I have in terms of my weakness and strength. She teaches me new things that I have never done before. This makes our sessions interesting and very fun. Amreen is always there when I need advice about working out or about my diet. I have learned a lot about myself in terms of my exercise. I learned that I could do things that I never did before like work a new machine but the number one thing that I learned about myself is that I have the confidence to try new things in the gym.
I enjoy working with Amreen once a month because Amreen is very polite, always has a smile on her face and is always happy. During our sessions, we are always having fun and having a good laugh. By working with Amreen I enjoy coming to the gym and I count down the days to our next session. The best part of the working with Amreen is that we created a friendship with each other.
I've been working with Amreen for almost 5 months, after realising I needed to get fit and lose weight before my upcoming wedding, and have seen amazing results in that time. Amreen is passionate about fitness and it shows through the energy and enthusiasm she brings to every session. Her easy going, friendly personality creates a relaxed, comfortable atmosphere. She makes each workout challenging, creative and most importantly, fun! She motivates me to push past my perceived limits to get results. My strength and flexibility have improved immensely and I've got great new muscles to replace my 'wobbly bits'. I am going to continue to work with Amreen after my wedding as what she has done for me so far in such a relatively short time, I can only imagine what she can do for me and my overall health and fitness in the future.
Thanks Amreen, you're the best!! (and a pretty great hangover cure too)
Amreen was my personal trainer in October 2014. She motivated me with her enthusiasm, sense of humour and competence. Amreen knew how to get me to move when at times I felt I could not do the required exercise. At age 56 I had not worked out with weights for many years. She lead by example. She gave me encouragement. Amreen inspired me with her immense knowledge and amazing positive personality. She provided an intense workout which helped me lose body fat and gain muscle mass. I am grateful to have trained with Amreen. For her birthday she asked her clients to come and workout at the gym and celebrate her birthday with a hug! Amreen is professional, kind and very giving. We laughed many times while working out. She made it fun, even though the sweat was dripping down my face!
Thanks for the terrific experience.
Joanne Miniato
I have been working with Amreen for the last month and find her to be very motivational. She is aware of my limitations, yet knows how to push to get me to the next level. I've also enjoyed the videos she sends out to her clients to help keep us on track.