wfcc trainer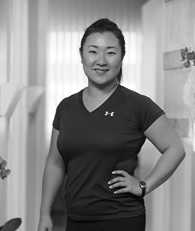 Deborah Kim
Areas of Practice
I am passionate about training because I love to teach and challenge people to achieve more than what they could do on their own. I create individualized programs and specialize in working with clients with injuries and those looking to increase their core strength. I love to see changes as I encourage and support my clients in reaching their personal and fitness goals. It is through exercise that we develop a trust and understanding to make workouts fun and effective.
Experience
I have been working in the fitness industry for over 10 years and have seen how exercise and movement can significantly improve our health. I have worked with clients of various fitness levels and ages; I have helped individuals reach their health and fitness goals through strength training, mobility, weight loss and functional rehabilitation. I believe that education and body-awareness are vital to a safe and effective workout.
Philosophy
I believe that BALANCE is the key to a healthy life; a balanced diet, workout, family/social life are all important aspects of a HEALTHY and HAPPY lifestyle. I believe that physical activity and movement are essential to seeing changes that positively impact our mind and body.
Certifications & Achievements
- Bachelor of Arts in Kinesiology & Health Sciences with Specialized Honours, York University 2008 - Certified Personal Trainer, Canadian Society of Exercise Physiology, since 2008 - Worked at Womens Fitness Clubs of Canada since 2005 - Certified in CPR/AED Level-C, Red Cross - Tribe Team Training Coach, since 2014