wfcc trainer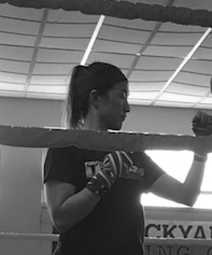 Nalae Yang
Areas of Practice
Improve the way you feel about fitness through training sessions with me no matter where you are in life. I train in all areas, personal training, group training, sports oriented training and bootcamp. You bring your best attitude and I will bring my best game in training and promise to make your body into a machine. No one wants to fall asleep during fitness training!
Experience
Nalae graduated from Royal Military College of Canada, served in Canadian Forces for 7 years since 2006 as a Maritime Surface and Subsurface officer. She was transitioning into Aerospace engineering officer in the Canadian Air Force and when the opportunity was not available by the time she had to make a choice for herself, she decided to retire from the military at the age of 24 to pursue other opportunities in the civilian world. From being a former military officer and an athlete, she has an extensive experience in rigorous physical training, specializes in body transformation and athletic training. She was a former athlete competing in Tae Kwon Do for over 11 years at national level and a former Toronto Open Champion in 2013. She is experienced in competing in wide range of sports including Volleyball, Basketball and Track and Field. She decided that fitness training is a second nature to her, and something she could not live without and decided to apply her knowledge and experience to fitness field. She can make you sweat within couple minutes, and you will not waste a second training with her. Her loyal clienteles vary in age, fitness level and goal in life. She is fearless in training, and will not take it easy on herself to ensure that you're happy with the way you feel about yourself.
Philosophy
As for everything else in life, if you understand that it takes discipline, hard work and consistency to change your body, you will achieve what you want. Be fearless!
Certifications & Achievements
Personal Trainer Specialist, Can Fit Pro, Canfitpro level 1, Kickboxing private group instructor, CPR, 3rd degree black belt in Tae Kwon Do, Various military training certification.
What Our Members Say
Passionate, responsible, tough.
-Leili G.
Nalae changed the way I look at working out. She makes it fun, exciting and challenging at the same time. She's super easy going and goes with the flow of the class, but also makes you work like crazy. I love working out with her! Her kickboxing class makes me feel like a ninja! love Nalae!
- Jane F.
Nalae has made a positive impact in my life beyond just being an instructor. Whether it be a big class setting, a semi private class or a one on one session, Nalae always finds a way to follow up and make every individual feel the improvement after each class/session they attend. She takes the time to follow up with clients and focus on individual goals beyond the expectations of a trainer. Via communication within and outside class, I have found myself loving coming to her classes and train because I feel motivated, excited and most of all I feel like I make progress every time I go. Nalae feels both like an enthusiastic and professional personal trainer as well as a motivating friend, and I recommend her classes and sessions to anyone looking to make a change in their life.
-Nikki K.
Nalae's knowledge, enthusiasm and motivation has completely changed my feelings towards fitness. In the past few months of working together she has helped me improve my strength and motivation to get into shape. Each session she show me something different and always cheers me on. She really is the best!
-Lauren M.
Nalae is an incredible trainer and has helped me tremendously in working towards my goal. She incorporates different types of workouts so that working out never gets boring! I've seen great improvement in very little time, and our sessions have helped me create good habits in and out of the gym, so that I continue to reach my fitness goals on my own as well.
-Danna E.
There came a point in my life where I needed a change, I stumbled across Nalae at Women's Fitness and she changed my life forever. Through her dedication and persistence, not only did her training help me achieve my goals but also changed me as a person for the better! Nalae is an incredible instructor with a great wealth of knowledge but also an amazing person who takes the time to know and understand you!
-Dana V.
Just wanted to take a moment to thank this woman right here. It's been almost a year and I am grateful to have such a strong kind-hearted, crazy(the best people are) and vibrant person in my life. Nalae you have been pushing me to better myself from the start and I truly admire and respect the dedication and drive that you have towards transforming people on becoming the best version of themselves. If you are in Toronto and you are looking for a trainer who is hardcore, someone who will truly challenge you and push you to your limits... THIS WOMAN IS THE ONE. Not only did she attend the military and has a Bachelor's in space science... NOT ONLY did she teach herself how to play piano and has a black belt in Tae Kwon Do.... She just recently had a boxing match and knock her opponent out in 40 seconds. Oh yes did I mention she's a DJ too?
-Daniella I.