wfcc trainer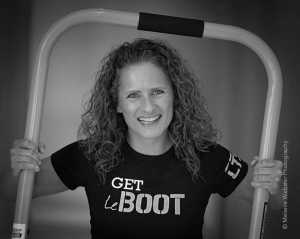 Nikki Holm
Personal Trainer Specialist, Holistic Nutritionist, Lebert Training systems Master Trainer
Areas of Practice
Overall general conditioning focusing on body weight exercises, core conditioning, fat loss, circuit training and bootcamp style workouts when appropriate. Whether you are training for life or for an upcoming event, Nikki has the personal and professional experience to help you achieve your goals.
Experience
Nikki is a long-time exercise enthusiast, certified Personal Trainer, Lebert Training Systems Master Trainer; and a kick-ass boot camp instructor! Nikki owned and operated two very successful BOOTCAMP businesses from 2007 to 2014 (Cardio-Core Bootcamp, Scarborough and then Rawk Your Body Fitness and Nutrition). She has been an instructor/trainer for Moksha Yoga, MMA World Academy, Fitbody Bootcamp and The Fitness Nation. In 2010, Nikki was nominated as one of three CanFitPro finalists for "Fitness Professional of the Year". She has a real passion for helping her clients reach their goals and her Nutrition and Culinary Nutrition knowledge are assets she uses to achieve overall wellness.
Philosophy
GIVE 100%, WORK SMART, HAVE FUN! Nikki understands the challenges women face today and she will meet you where "YOU ARE AT" with understanding, compassion and empathy and will guide you along your journey towards your goals.
What Our Members Say
"After being away from the gym for almost
a year, I decided to join WFCC in Ajax with
the intent of hiring and working with a
personal trainer, I was introduced to
Personal Trainer Nikki Holm. I feel Nikki
and I have built a very strong personal
connection. Nikki's style of training and
personal approach has helped me to
reduce my size, gain strength, stability and
flexibility, and most importantly has
improved my self-confidence. I am grateful
to Nikki as she shares her personal
knowledge in all aspects of life with me
and I look forward in continuing my
personal journey with her and can't wait to
see further results. Thanks Nikki!"
~ Vanessa C
"I joined Womens Fitness Clubs in May, and it was the best decision I made for myself. With
the help of Nikki as my personal trainer, I was able to lose 12 pounds in two months. She
pushed me to work hard which motivated me to give my full effort to reach my goals. She
took the initiative to research to provide me a nutritional plan to achieve a more effective
result, but also to live a healthy lifestyle. Getting a personal trainer is one of the best
decisions I have made so far as I am happier than ever."
~ Mihina V
"I've been working with Nikki at Womens Fitness Clubs Ajax since April 2018. Originally I
asked Nikki to help me put on lean muscle and improve my overall health and wellness.
Within 3 months she already has me completely change the way I think about eating, what I
eat, and how I eat on top of helping me become a regular at the gym. I have already seen
tremendous results within the short time I have been working with her and I could not be
more pleased. My muscles and posture look fantastic. My workouts are challenging and full
of variety. Personal training is one of the best investments I have ever made because it never
stops producing results both emotionally and physically!"
~ Sadeka S