wfcc trainer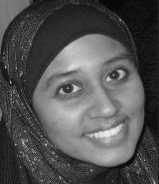 Mariam Fasiullah
Elite Level Personal Trainer
Areas of Practice
I place a lot of emphasis on core stability. From a strong core comes a strong body. I will use many different core activating techniques to ensure that we achieve and maintain a strong, fit Core.
Experience
This is the third women's gym that I have worked at. Through this experience I have gained a tremendous amount of insight and knowledge in training the female body to achieve optimal results. Clients have ranged from beginner to advanced. No matter where you stand, what level you are beginning at, I will be able to help you achieve your goals.
Philosophy
As your trainer, my main goal is to do everything I can to help you, help yourselves. I will be your trainer, coach and greatest supporter. Regardless of your initial goals, be it, weight loss, toning, or recovering from an injury, my ultimate vision for each and every one of you is to make exercise a part of your daily routine. This is the only way to achieve and maintain optimal results.
Certifications & Achievements
Personal Trainer Specialist (Canadian Association of Fitness Professionals) Pilates Level 1 Mat Certification (East to West Yoga) Human Kinetics Courses, Nutrition for Exercise, Fitness for Women, Advanced Strength Training, Flexibility Assessment and Prescription Completed 3 years of BScn in Nursing at Ryerson University Proud mother of four beautiful children!
What Our Members Say
Mariam is incredibly knowledgeable about fitness, nutrition and health in general and she knows how to share the right information at the right time to make it as effective as possible for her clients. She is fun, supportive and she gets results which is why I have been her client for almost 2 years and counting.
Julie
I have been training with Mariam in her "All about Core" class for some time now and I find her to be an excellent trainer. She is extremely knowledgeable and mixes up the exercises every week so our bodies never settle into the same routine. She is very motivating and takes the time to describe each move while explaining where the area of focus is. I've seen amazing results and that is a direct result of Mariam's training style.
Lori
Mariam designs thoughtful, effective programs that get results, and her encouraging, down-to-earth, informative manner makes it easy to stay motivated and stick with it. I particularly like that she offers options for different fitness levels so everyone feels included, and that she adapts exercises to take into account any injuries or challenges.
Pat
Mariam is not only a highly competent and knowledgeable trainer in the body's physiology, she is also extremely creative and adaptable in working with the individual client's requirements....all this and she presents herself in a calm, friendly and accessible manner.
Barb