WFCC TRAINER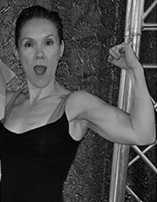 Teaches:
Re Pena
Group Fitness Instructor
Experience
I have been teaching group fitness classes for about 25 years now. Needless to say, there have been various establishments over that time from the small, more personal gyms to the larger, more corporate gyms, all with locations ranging from downtown Toronto to the Durham area. Both types of establishments service all types of people, from all levels of fitness. I currently teach at The Women's Clubs of Canada, here in Pickering. Another fun part of my experience has been the various occasions that I have volunteered to teach public school students about Yoga. I taught them a variety of yoga poses and a tiny bit of Yoga philosophy during their variety of Culture events. I have also taught at a Catholic High School, adding variety to the gym classes for teenage girls from grades 9-12.
Philosophy
I have 3 main ideas that my philosophy is based upon: 1. No matter how old you are everyone is able to do something, whether you walk, ride a bike, dragon boat, participate in classes, run a marathon….. anything to raise your heart rate, circulate your blood and get the body moving. 2. Once you find 'that' activity (that suits you at this moment in your life), try to find the edge, the threshold of your ability, the point where you are just about to quit; work as close as you are able to that threshold and maintain that level as long as you can as you go through your daily work outs. This way, in each workout, you are trying to increase your body & cardiovascular strength. 3. Have some fun! Laugh a little and enjoy the other people and energy around you!
Certifications & Achievements
Ontario Fitness Council certified / canfitpro certified / Reebok Spin certified / East to West Yoga – Hatha certified / Resist-A-Ball various certifications / Zumba certified