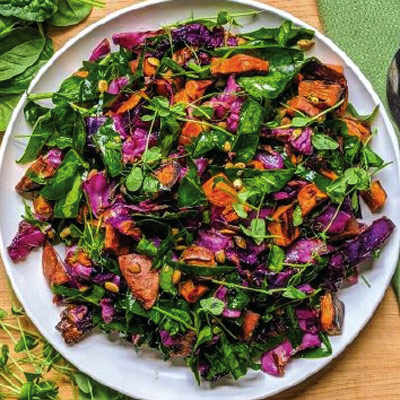 INGREDIENTS:
1.5 lbs of sweet potatoes or yams (about 1-2) cut into 1 inch pieces
1/2 head red or green cabbage, cut into 1 inch pieces
7 tbsp. olive oil, divided
2 cloves garlic, grated
2 tbsp. apple cider vinegar
2 oz. spinach (about 4 cups), thinly sliced
1/4 cup roasted, unsalted pepitas
Kosher salt
Freshly cracked black pepper
DIRECTIONS:
Preheat oven to 425 degrees. Place one rack in the upper third of the oven and the other rack in the bottom third. Toss sweet potatoes, 2 Tbsp. olive oil, and 1 tsp. salt in a large bowl. Add to a rimmed baking sheet. Add cabbage to the same bowl. Toss with 1 Tbsp. olive oil and 1 tsp. salt. Add to a separate baking sheet. Roast sweet potatoes and cabbage for 15 minutes. Toss. Rotate the pans on the racks to ensure even cooking. Continue roasting for 15-25 minutes until vegetables are nicely browned.
While the vegetables are roasting, slice the spinach and prepare the dressing. Combine the garlic, vinegar, 4 Tbsp. olive oil, and 1/2 tsp. salt to the same bowl you used to toss the vegetables. Give the dressing a whisk or stir to combine and then add roasted sweet potatoes, cabbage, spinach, and pepitas. Toss to combine. Taste and season with salt if needed. Top with shoots if using.