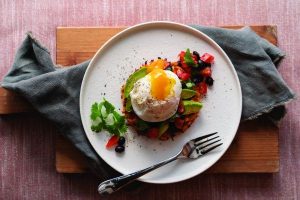 Ingredients:
● 4 large organic eggs divided
● 1 garlic clove finely minced
● 1/4 tsp freshly ground black pepper plus extra for garnish
● 3/4 cup diced tomatoes
● 1/2 cup cooked black beans
● 1/4 cup chopped kimchi vegetarian if desired
● 2 Tbsp fresh cilantro leaves chopped
● 1 Tbsp lemon juice
● 1 Tbsp white wine vinegar
● 1 small avocado pitted and thinly sliced
Instructions:
Preheat oven to 400 F. Line baking tray with parchment paper and set aside.
On large holes of box grater, grate sweet potato. In large bowl, whisk 1 egg before
adding grated sweet potato, garlic, and pepper. Stir until well combined. Divide sweet
potato mixture into 3 equal parts on prepared baking tray. Form each mound into a
disk, about 4 inches wide and 1 inch high. Transfer to oven and bake until lightly
crisped and nicely browned, about 25 to 30 minutes.
Meanwhile, in medium bowl, stir together tomatoes, black beans, kimchi, cilantro, and
lemon juice. Set aside.
Bring medium saucepan filled about 2/3 full with water to a simmer over medium-low
heat. Crack remaining 3 eggs into 3 separate ramekins or small bowls. Add vinegar
to simmering water and, with slotted spoon, stir water to create a whirlpool effect.
Gently tip one egg into center of whirlpool and let cook for 5 seconds. Gently re-stir
water and add remaining eggs just like the first. Let eggs poach in gently simmering
water until cooked as desired. For a runny yolk, poach eggs for about 3 minutes. To
check for doneness, gently lift egg out of water with slotted spoon and poke egg with
your finger. The egg white should be firm, and the yolk should be soft. Once done,
using slotted spoon, transfer to plate lined with paper towel.
To serve, place warm sweet potato rosti on serving plates. Top with slices of
avocado, kimchi salsa, and a poached egg. Garnish with some freshly ground black
pepper, if desired. Enjoy immediately.